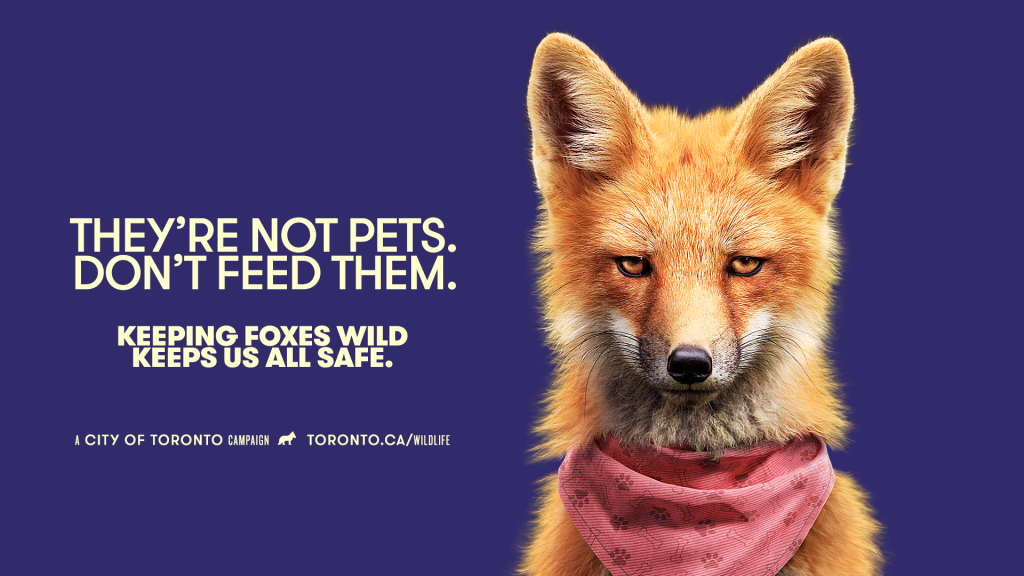 If the furry faces of Toronto's wildlife are calling you to search your pantries and empty your cupboards, then you'll no doubt be drawn to the creatures in the City of Toronto's recent ad campaign.
On April 1st, City of Toronto released their new bylaw regarding safe interactions with Toronto's Wildlife. Released alongside this bylaw was a campaign developed by Publicis Toronto featuring coyotes, foxes, and raccoons dressed in pet accessories. The creative approach was to play into the idea that these animals are deceptively cute and when placed in pet accessories it makes them appear domesticated. Overall, this communicates that feeding them can lead to a departure from their natural instincts.
Almost immediately after their release, Torontonians took to Twitter to discuss the dapper creatures they've seen all across the city. One of which, was comedian, Chris Betts, who snapped a pic of the transit shelter while waiting for the streetcar. Shared with the message, "THEN WHY IS HE WEARING A BOWTIE? I WANT TO GIVE HIM SPAGHETTI", his shot of City of Toronto's ad garnered over 3.1M views, 115k Likes, and 13.3k retweets in only three days.
Chris Betts isn't the only Torontonian joining in on the conversation. The tweet gained interactions from many animal loving fans, meme pages, and even the ready-made meal kit brand Goodfood.
The furry frenzy didn't stop there, social and news outlets like BlogTO, BeigeCardigan, CP24, Breakfast Television, Toronto Star, and more joined in the conversation.

Some residents even claimed that the ads drew them in and made them want to feed the animals more, but ultimately the desired target was reached with the main message of the campaign through an eye-catching poster.
Torontonians should not fear these wild animals, but rather understand that although they are cute, they are wild creatures and should not be treated as pets. Leaving them alone in their natural habitat creates a safer environment for both the animals and the residents.

So, if you're in the neighbourhood and happen to pass one of these captivating creatures, just remember that no matter how cute they may seem, feeding them is never a good idea.